Transfer printing has been around for decades. Normally you can print on t-shirt transfer foils with your regular inkjet printer and iron the design on your shirt. We took transfer printing to whole another level. We offer our clients special Hybrid sublimation system for desktop publishing needs. Regular Epson printers that are readily available in your local computer store and can use our special inks and paper to print on garments (like cotton,silk,polyester,all natural fibers like bamboo, cocoa, etc..., leather natural and artificial). Making small number of unique looking designs is not a problem any more. You can make just one or you can make thousands of them. We developed paper that enables you to transfer image with highest possible resolution and inks will produce vivid vibrant colours.
We have been developing this paper and ink for last 5 years in cooperation with partner from Germany we made it perfect. And what is best of all it's cheap and effective! It will only cost you 0,2 € per sheet. For bulk orders and distributor orders over 1000 € we will give you 15% discount! We even went so far to enable you additional savings we decided to coat the paper on both sides. So you can use every sheet of our transfer paper 2 times!
Inks that are used are special hybrid sublimation inks. What it means hybrid? It means inks have 2 functions. If you print on normal sublimation paper our inks will act as normal sublimation inks that have been around for years. You can print all what you can normally print with regular subliamtion inks. Becouse we use special additive in our inks when printed on our Transfer paper and scattered with Fixating powder it will become suitable to print on garment. Prints will be durable and wash resistant up to 60 degrees and dry cleaning resistant as well. We can also say the flexibility of our transfer is superb.
If you already own printer with sublimation we are willing to offer you a solution as well. We can give you the additive free of charge for whatever ink you already have stocked. Then purchase ink from us directly. Contact us today and we will find best solution for you. If you don't have printer or don't know what to buy. Call us on +386 70 282 282 and we will help find the right printer for you. We can also do modification of the printers and ship them directly to you worldwide.
White color for dark garments:
Here you can see sample of google logo printed on black cotton t-shirt. Clean, easy and cheap. We have developed our own ICC profile to work with correcting colors. And we nailed it! Lately people are asking me how can i print in white color letters. I tell them no problem. Here is how it's done. All printed on A4 size Epson printer R265 with our hybrid sublimation inks. No fixing powder residue. See the letters how smooth they look. How perfect. Doing that with any other DTG system is nearly impossible! Never to mention that you can get our system for pritning on garment A3 size for just under 400€. Give us a call today: +386 70 282 282 and we will solve your garment printing problems.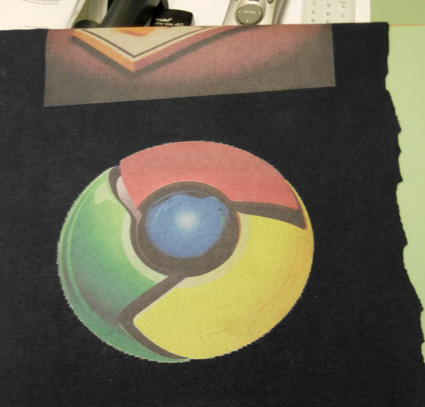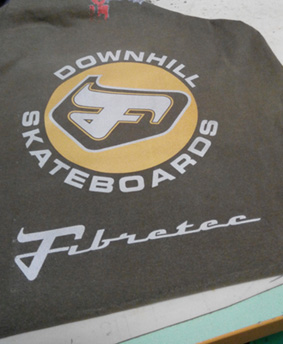 Advantages of our system comparing to other systems
What separate our system from competition is versatility and cost performance. You don't need to spend >10000€ to get a garment printer. You can have A4 one for just under 300€. Then another great aspect of our system is that you can make many things with it. Not just print on t-shirt. you can actually print on any garment you want. And even better you don't have to pre-treat your fabrics. You just heat cure our inks and it's done. No need any pre-treatment! We even went one step further. While we were devloping the system many folks come to us and say what about white ink ?. We wre thinking long time and then we made a decision. Why make white ink that can damage your print head!? We had simpler and more efficient approach. We decided to put white color in our Fixation powder. When you want to print on dark textile you can use BrightWhite fixation powder and you will get 100% white prints. And the best thing is: It's cheap! A4 prints go as low as 0,2€ paper, ink and fixation powder included! Print on all garments (no matter the composition - no more buying special t-shirts to print on them). You don't have to worry what the client will bring to you. Either is cotton or synthetic. You have it covered. Either light color or dark black. You have the solution to print it then and there immediatelly. This system is ideal for printing on sport dress with numbers for marathon and similar. You can print products on the spot. Where the action happens. System is small, portable and cheap.
Another great thing about our system is that prints are breathable on fabric. Sweat and cold air can actually pass throught fabric even you have printed it. Not like when you use foil and precut it to match the shape of the prints you get big plastic part on the fabric and it looks really cheap. Our system is superb in this way that it will not clog the natural moisture permeability of the fabric. You can sweat through the garment like without print!
With our system your get low investment costs and high returns on your investment. Flat bed printers will cost you a fortune. We offer service for flatbed printers and we see what problems people face on daily basis. It's high cost of maintenance and high cost of printing. Many times it happens that printhead gets clogged and owner needs to spend over 500€ to get it fixed. Our ink is specially designed not to clog your printheads. Even if you don't print a lot. And the bes thing it's cheaper then most laser toners for printing on textile. With special laser printers you can also print on dark fabrics. You can have a look on youtube and see the procedure. But machine costs and toner costs are through the roof. It's hard to make any money with such expensive consumables.
Looking for distributors
If you have company and want to represent our new Hybrid sublimation system for printing on garments we are happy to support you. We are now looking for new resellers all over the world. dont' wait and contact us immediatelly so we can setup meeting and meet you in person... -order free samples or send us your design and we will print it for you for free. 5€ for shipping cost worldwide via paypal Still not convinced? We can send you your print sample. Send us your design today and we will print it on garment and send it to you for inspection. All you have to do is to send us PDF or JPF file with your desired graphic and we will do the rest. Printing charges will be omited. All you have to pay is shipping cost of your printed sample - it's flat rate for everywhere in the world 5€. You can pay via paypal. Something missing? We can offer you also good quality heat press, service parts for printers, service of your printer or heat press etc... Give us a call today! +386 70 282 282 from 9 - 16, moday - friday, weekends closed.